Consign with Us & Earn Cash for Your Clutter!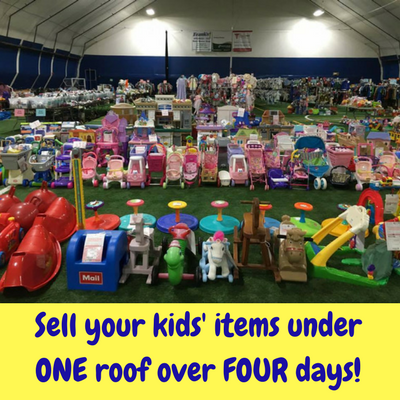 Why sell with Next Size Up Kids?
Earn More Money
You make 60%-75%… more than you would at a resale store!
Skip the Hassle
We advertise and organize the sale to put your items in front of over 1800 shoppers at once!
Get More
Consign at least 20 items and shop our private presale.
Join our NSU Crew to help out and earn a higher % of your sales.
Online Management
Register, schedule your drop off, enter your items & create tags using our easy online software.  You can even check your nightly sales!
How To Consign
Check out our Consignor Checklist for step by step directions for consigning with Next Size Up.
Shop & Crew
Earn more and shop the private presale even earlier when you join our NSU Crew.
What our consignors are saying about us…
I have sold items at several annual consignment sales like this one in the past and this sale is by far the best. It is incredibly organized, detailed, and they really check everything that is brought in so that you can be sure it is not ripped, stained or broken in some way. Next Size Up far exceeds the others in all categories. Great Sale. Thank you!!!!
CHERYL H. 10/3/17
Great sale. I participate every year and love how easy the process is and the opportunity to work and earn a higher percentage of sales. The quality and quantity of items available are amazing!
Kristina M. 10/3/17
I've been shopping this sale (always at the presale) for two years, and consigning for one. I find the selection and quality much higher than in other area sales. I've also had great luck selling my items (mix of clothes, gear and toys) and am very focused on keeping the sale quality high by being selective in the items I consign. It's so much easier to do this sale than manage a million FB or Craigslist listings. On the whole I've found the staff and volunteers to be friendly and helpful.
Carrie R. 6/2/16
This is my 4th sale that I've consigned with Next Size Up. I love purging all our outgrown gear & we use the $ I make for a great family trip twice a year!
Krissy F. 4/30/15
I have shopped this sale in the past and started consigning this year. I was amazed at how organized every step of the process is, making it very easy to sell, shop and earn a little money along the way.
Rebekah F. 5/5/17
Such a great group of people. Great items for great prices. This was my first time consignment selling. It was a lot of work preparing but after helping set up, working the sale, and shopping I see why. The system works. Had a great time made good money and shopped for some great items. Can't wait until the spring sale!
Dawn C. 10/3/17